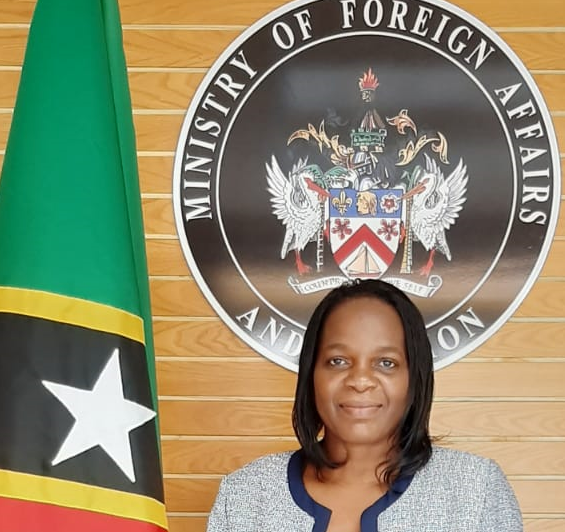 Kaye Bass began her diplomatic career as a Foreign Service Officer in 2002, after having spent over 10 years in the field of Education (at home and overseas) as a Spanish teacher. As a result of her initiative, professionalism and competence, she was soon promoted to Senior Foreign Service Officer and became the first Director of Foreign Affairs in 2012. She was appointed Permanent Secretary of the Ministry of Foreign Affairs in 2015.
In her current role as Permanent Secretary in the Ministry of Foreign Affairs and Aviation, besides her proficiency in the Spanish language, additional strengths come to the fore, including her ability to motivate staff to organize and develop a good rapport with people with varied experiences and from diverse cultural backgrounds. In addition to a Master's Degree in Spanish and Second Language Pedagogy (Georgia State University, Atlanta, Georgia) and a Postgraduate Diploma (PGDip) in Diplomacy and Information Technology from the University of Malta, Ms. Bass also holds a Bachelor's Degree in Spanish and Secondary Education from the University of the Virgin Islands (St Thomas Campus) where she graduated Summa Cum Laude, and attained the highest GPA in the Humanities Division as well as amongst females of the entire University. Ms Bass was also one of the first graduates of the Summer Institute for Future Global Leaders in the Caribbean (now Global Institute for Leadership and Management Development – GILMD).
She has also earned certificates and diplomas in Diplomacy and International Relations from the Romero Institute, Mexico; Ministry of Foreign Affairs, Taiwan; and a Diploma in Trade Policy from the Ministry of Foreign Affairs and Trade, Canberra, Australia. Ms. Bass has spearheaded multiple projects
in which the Ministry has engaged over the years including the compilation of the National Report on the promotion and protection of human rights for the first and second cycles of the United Nations Human Rights Council Universal Periodic Review (UPR) and their presentation in Geneva, Switzerland.
She was also instrumental in the successful execution of past Diplomatic Weeks, Honorary Consuls' Retreat, and international and regional conferences (OAS, CARICOM, CDB, OECS) hosted in St Kitts and Nevis. She also managed the development of the Ministry's first website including the country's
Treaty Index.
For leisure, Ms. Bass enjoys the culinary arts and the outdoors (gardening and walking).